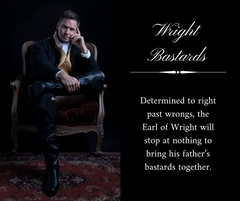 Some years ago, when I wrote my Fallen Ladies series, I knew from the start I had to have a story for the villain Mason Hale. Although he did some dastardly stuff to the Chadwick sisters, I always believed there was a true hero buried deep within his very rough persona. Hale finally got his Happily Ever After in the follow up series, Peril & Persuasion.
But there was another secondary character in the Fallen Ladies who desperately deserved a story of his own…
Those who have read it might recall that Roderick Bentley, the hero in Luck is No Lady, had a half brother the Earl of Wright. Here is a quick intro excerpted from that book…
Roderick almost made his escape through the front door
when his path was blocked by an elegant, fair-haired
gentleman just making his arrival. When the gentleman
looked up, his bright blue eyes locked with Roderick's.
Biting off a curse, Roderick forged ahead. Of course,
his sojourn into hell would not be complete without
an encounter with his half brother, the current Earl of
Wright. There was an unspoken agreement between
them to behave as the strangers they were whenever
they happened to cross paths. But as Roderick shifted
his gaze to the door, intending to sweep past his father's
legitimate offspring, Wright turned toward him.
"Bentley, a word…"
Roderick ignored him and continued out into
the night.
As you likely noticed from that short section, Roderick is illegitimate, and he and his brother didn't exactly get along. Although we don't find out about it in Luck is No Lady, it turns out Roderick wasn't the earl's only indiscretion! In fact, the prior Earl of Wright had sired several bastards no one knew about.
Of course, that's all about to change. ??
My upcoming new series, titled Wright Bastards will focus on Roderick's half siblings, starting with the heir.
TEMPTING THE EARL tells the story of the oldest Wright sibling and the only legitimate child sired by their common father. Colin Fitzhugh is known for being a reserved sort of gentleman, polite and proper at all times. He's the last person anyone would expect to thwart social convention by acknowledging his father's many scandalous indiscretions. But when he discovers the existence of multiple siblings scattered across Great Britain, he can't ignore it.
P.S. The earl made a few brief appearances in Luck is No Lady, but there is another sneaky hint to this series tucked into the third Fallen Ladies book, Lord of Lies. It'll be fun to see if any readers figure out the connection…