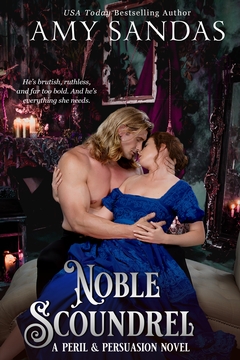 Noble Scoundrel

is the first book in my new Peril & Persuasion series and it is now available in Amazon KU!
Ever since former bare-knuckle boxer Mason Hale first made a rather villainous appearance in my Fallen LAdies series, readers have been asking when he'd get his own romance...and a much needed redeption.
The time has finally arrived!
Hardened by a violent past, Mason Hale has become a feared and ruthless scoundrel of London's East End. But to pay off a personal debt, he agrees to exercise his fighting skills by taking on the role of bodyguard to a young duke.
Lady Katherine Blackwell's only concern is keeping her brother safe while she figures out who is behind the repeated attacks against him. She can't risk being distracted by the brutishly handsome man who challenges her at every turn.
As the enemy closes in, Katherine and Mason discover a plot far more sinister than they imagined. And though Lady Katherine insists she doesn't need a hero, Mason realizes he wants to be exactly that.