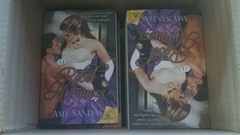 As many readers are probably already aware, as of March 1st, Samhain Publishing Ltd. closed up shop. I am saddened by the loss of my first publisher. I only had wonderful experiences with each of my four releases through them. My editor with Samhain, Heidi Moore, was a great person to work with and will hopefully continue to find success along new paths.
Although I had already started releasing new titles with my current publisher, Sourcebooks Casablanca, I did have four titles with Samhain that are now unavailable. But I have good news! I am definitely planning to re-release them myself. (Once I figure out how to do the self-pub thing) Possibly with new covers, maybe new back-cover blurbs, but I expect to keep the same titles.
These books are:
Rogue Countess
Reckless Viscount
Rebel Marquess
Relentless Lord (novella)
If you click over to my Books page on this site, you will still see all of the book covers and will be able to click on them for a description, but there are no longer any buy links. As soon as I am ready to re-release these stories, I will be sure to post announcements to this webpage, Facebook, and my other social media outlets.
In closing, I'd just like to say thank you to Samhain for seeing something in my writing and taking that first chance on me with Rogue Countess.